Scotland County 4-H'ers Attend State 4-H Congress
Scotland County's 4-H'ers received honors during the recent State 4-H Congress. This year's 4-H Congress, held in Raleigh July 29-Aug. 1, attracted more than 500 young people and their adult leaders for activities including presentations on a variety of subjects, leadership and citizenship training, service opportunities, officer elections and more.
On Saturday, July 29th, Chancellor Byrd, Shynise Stephens and Kiya Stephens were present to compete at the state level of 4-H presentations and public speaking. In order to compete at the state level, the 4-Hers must have earned silver or gold at the district level amongst 19 NC counties. At the state level, there are 100 NC counties represented.
In attendance at 4-H Congress were Chancellor, Victor Gordon, 14, son of Nyeree Charette and Kayvon Douglas, 17, son of April McDuffie, of Laurinburg, NC. These 4-Hers attended several workshops including topics of citizenship, leadership, team building to continue to develop organizational and planning skills. 4-Hers do have some fun with their dances but closed the program by completing more than 80,000 meals to feed families in need. 4-H prepares youth for success by providing opportunities to learn, lead and grow through hands-on learning, cultural experiences and mentorship of responsible, caring adult volunteers.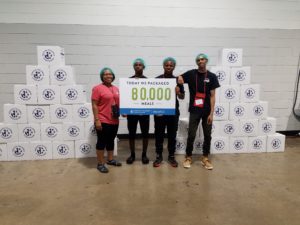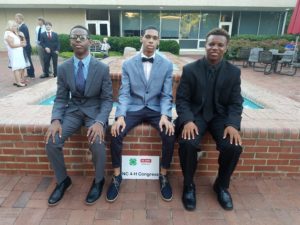 To join 4-H is free. For more information on the 4-H program in Scotland County, please contact Angela D. Galloway, Extension Agent of 4-H Youth Development at (910) 277-2422 or adgallow@ncsu.edu.
4-H is North Carolina's largest youth development organization, equipping more than 247,000 young people each year with the skills to succeed and improve the world around them. 4-H programs and camps encourage young people to "learn by doing," helping them to develop into active, contributing citizens. NC State Extension and the Cooperative Extension Program at N.C. A&T State University coordinate 4-H programs statewide.