Scotland County's 4-H'er Attends NCACC Youth Summit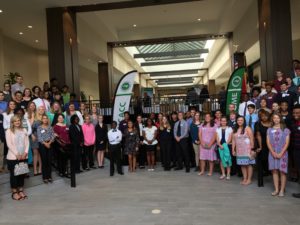 Chancellor Byrd, son of William and Precious Byrd and a Scotland County 4-H'er was selected to represent our county at the seventh annual North Carolina Association of County Commissioners (NCACC) Youth Summit, which was held in Durham, North Carolina August 11-12, 2017. North Carolina 4-H and the North Carolina Cooperative Extension Service partnered for the eighth year with the NCACC on a multi-year initiative to increase youth involvement in county government.
This initiative aims to overcome the mindset that many youth are disengaged and lack trust in government. Over 73 North Carolina counties were represented during this event. The event is sponsored and supported by the North Carolina Association of County Commissioners. Selected teens complete a packet that requires him or her to attend and speak at the local county commissioner's meeting, interview a county commissioner and share why he or she should be selected to represent his or her county. Only one youth is selected per NC county.
Chancellor understands the importance of citizenship and the effects it has on his life, even as a teenager. Chancellor has been involved with 4-H since he was a cloverbud, monitoring his older brothers participate in 4-H from cloverbuds (ages 5-8), to junior 4-Hers (ages 9-12), to teens (ages 13-18). His experience in 4-H exposed him to numerous cultural experiences, life-long skills through hands-on learning such as public speaking, organizing, critical thinking, research, team building, planning and facilitating workshops. His parents, William and Precious Byrd understands and believes in the impact 4-H has on a child's life, as they have witnessed its effects of youth who came through her 4-H clubs and NC 4-H. Chancellor is well-equipped to apply to any college, continue to be a leader in his community and any other projects he wishes to pursue.
Knowing how our government works and using his leadership skills and the desire to help others through community service, Chancellor can affect change in our community, our country, and our world. Join the revolution of responsibility by joining 4-H today and make a difference in your life and the life of others.
For more information on the 4-H program in Scotland County, please contact Angela D. Galloway, Extension Agent of 4-H Youth Development at (910) 277-2422 or adgallow@ncsu.edu.
4-H is North Carolina's largest youth development organization, equipping more than 247,000 young people each year with the skills to succeed and improve the world around them. 4-H programs and camps encourage young people to "learn by doing," helping them to develop into active, contributing citizens. NC State Extension and the Cooperative Extension Program at N.C. A&T State University coordinate 4-H programs statewide.