4-H Teen Retreat: "Reach for the Stars"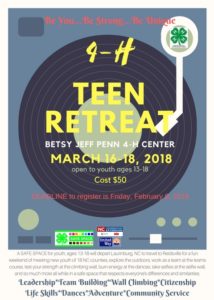 A SAFE PLACE for youth, ages 13-18 will depart Laurinburg, NC to travel to Reidsville for a fun weekend of meeting new youth of 18 NC counties, explore the outdoors, work as a team at the teams course, test your strength at the climbing wall, burn energy at the dances, take selfies at the selfie wall, and so much more all while in a safe place that respects everyone's differences and similarities.
In addition, you will elect your district officers who work to schedule and organize state and district events for teens. You have a voice, use it.
4-H encourages youth to use or find their leadership skills to apply to life. 4-H prepares youth to be successful adults by providing hands-on interactive projects and programs that include leadership, citizenship, team building, life skills and so much more.
Cost: $50 will include travel, lodging, materials and all meals (excluding dinner for first night). DEADLINE TO REGISTER IS FRIDAY, FEBRUARY 9, 2018. https://goo.gl/forms/niu8cJHMcIUTQrkv1
Anyone who is interested in running for District Officer, must complete paperwork and turn into Angela D. Galloway, Extension Agent of 4-H Youth Development no later than Friday, January 26, 2018 at 4:00 p.m.